< Indietro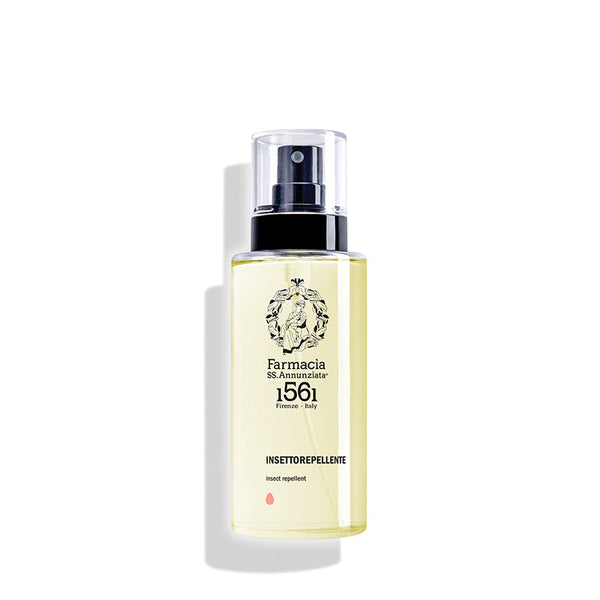 Description
Insect repellent is a slightly alcohol-based body and room spray. Keeps mosquitoes, flies and bugs away, fighting the appearance of bites and welts. The well-known insect repellent properties of Lemongrass, Geranium and Lavender make the product effective and non-aggressive on skin and in the environment.
Thanks to the anti-inflammatory properties of Geranium and Lavender, it is also extremely delicate on skin and therefore suitable for children. 
SKIN TYPES: For all skin types, except irritated ones. 


Tips and directions for use
IDEAL TO:
Keep moquitos and bugs away with a delicate and easy-to-use product. 
HOW TO USE:
Apply when needed. In case of sun exposure, use sunscreen and apply the insect repellent afterwards. Not to be used on cuts, wounds, burns or skin irritations. Suitable on clothing.
Spray in a slow sweeping motion holding the product 6-8 inches away from skin and clothing. If used on skin, cover the entire area using your hands to evenly moisten exposed skin. Remember those easy-to-forget areas, like ankles, feet, elbows and behind the knees. Apply multiple times during the day for a long-lasting protection.
Face:  Spray the palm of your hand first, then use just enough to apply to the face and around the ears. Carefully avoid eyes and mouth entirely.
Children: Don't let children handle the product themselves and don't apply it directly to their hands. Instead, spray the palm of your hand first, then apply the product to children.
Environment: Spray in the environment and on surfaces holding the product 12 inches away. Can be used also on bed sheets for an effective protection during the night. Repeat multiple times a day if necessary.
ACTIVE SUBSTANCES:
Lemongrass, Geranium and Lavender essential oils.
NOTES:
Non-comedogenic – Paraben free – GMO free
Close (esc)
10% OFF
Sign up for our newsletter and immediately receive a 10% discount code as a gift to use on your next purchase.