< Indietro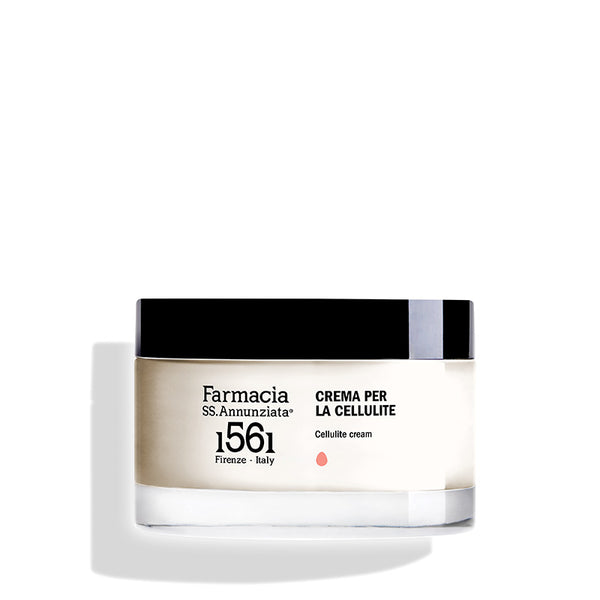 Description
Cellulite cream is a delicately scented body lotion that helps fight cellulite blemishes. It delivers a significant vasoprotective and vasoconstrictive action stimulating the elimination of excess liquids and reducing capillary permeability.
The combined activity of Horse Chestnut and Ivy reduces bloating and increases cellular oxygenation and nutrient intake, stimulating toxin drainage and fighting water retention.
The anti-inflammatory and anti-bloating properties of Horse Chestnut regulate the amount of interstitial fluid, eliminating fatigue and lymphatic stagnation. The high concentration of marine active ingredients, especially Brown Seaweed, improves skin elasticity and helps define body shape, reducing cottage-cheese skin. 
TYPE OF SKINS: Suitable for all skin types.
WARNINGS and PRECAUTIONS: Not recommended for people with iodine intolerance, thyroid problems, pregnant and breastfeeding women.
Tips and directions for use
IDEAL TO:
Relieve leg heaviness and drain excess liquid.
Support a weight loss and toning program.
Reduce cellulite, including cottage-cheese skin.
HOW TO USE:
Use twice a day, preferably morning and night.
Apply by delicately massaging.
Legs: massage in a circular motion, from ankles to thighs.
Glutes: massage in a circular upward motion.
Arms: massage in a circular upward motion.
Stomach: massage in a circular motion.
ACTIVE SUBSTANCES:
Brown Alga, Ivy, Vitamin E, Horse Chestnut, Jodalga.
NOTES:
Non-comedogenic – Colorant free – Paraben free – Silicone free – GMO free
Close (esc)
10% OFF
Sign up for our newsletter and immediately receive a 10% discount code as a gift to use on your next purchase.