< Indietro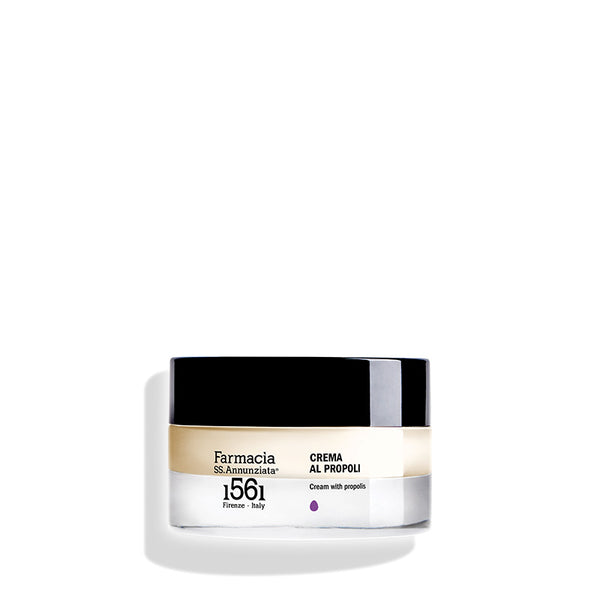 Description
Cream with propolis is a specific formula for acne-prone skin ideal to prevent and fight imperfections and skin imbalances. The antibacterial action of Propolis blocks the growth of pathogenic agents, responsible for inflammation and functional alterations.
Through an astringent and sebum-regulating action, skin depuration is enhanced, while the formation of blackheads and excessive production of sebum are reduced.
Echinacea regenerates skin and restores its structure integrity by healing microlesions. The sebum-like component of Sweet Almond Oil restores the moisturizing and softening functions of skin barrier, reinforcing the hydrolipidic film.
SKIN TYPES: Impure, oily, acne-prone skin, with rashes and inflammation.
Tips and directions for use
IDEAL TO: 
Fight acne and impurities.
Get a long-lasting astringent and sebum-regulating action.
Restore skin's natural luminosity with a purifying treatment.
HOW TO USE: 
Apply the product to face and neck – avoiding the eye contour area – and on shoulders and back, if needed. Gently massage until fully absorbed.
Face: massage in a linear motion from the center of the face outwards.
Neck: massage by alternating your hands in a linear upward motion, from the base of the neck up to the chin.
Body: massage in a linear motion.
ACTIVE SUBSTANCES:
Sweet Almond Oil, Calendula, Echinacea, Propolis.
NOTES:
Non-comedogenic – Colorant free – Paraben free – GMO free
Close (esc)
10% OFF
Sign up for our newsletter and immediately receive a 10% discount code as a gift to use on your next purchase.