< Indietro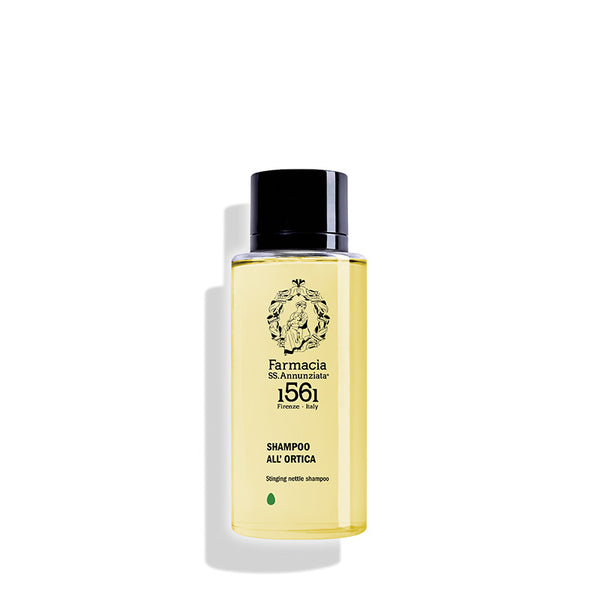 Description
Nettle shampoo is a cleansing formula with purifying and sebum-normalizing properties that restores the wellbeing of the scalp and gives hair a fresh and healthy look.
Thanks to the astringent and dermo-purifying action of Nettle, provides skin and hair with a deep and intense cleansing. Effectively removes residues of fine dust, pollution and sebum, thus purifying clogged pores.
If used regularly, it gradually regulates sebaceous secretions, thus preventing weak hair.
Stimulates hair bulbs boosting bloodstream and strengthening hair shaft, for an overall anti-loss effect. 
HAIR TYPES: From normal to oily hair. Oily scalp. 
Tips and directions for use
IDEAL TO:
Gently and effectively cleanse hair.
Eliminate impurities from scalp and regulate sebum production, preventing oiliness.
Repair and protect hair fibers. 
HOW TO USE:
Use the Nettle Shampoo at least twice a week.

Wet the hair with warm water and distribute an adequate amount of product on the scalp and hair, gently massaging the skin with the fingertips. Rinse with warm water, apply a second dose of product and repeat the operation. Rinse again, finishing with a jet of cold water to close the pores. Gently pat your hair dry with a towel.
ACTIVE SUBSTANCES:
Nettle extract.
NOTES:
Colorant free – Silicone free – Paraben free – GMO free
Close (esc)
10% OFF
Sign up for our newsletter and immediately receive a 10% discount code as a gift to use on your next purchase.