< Indietro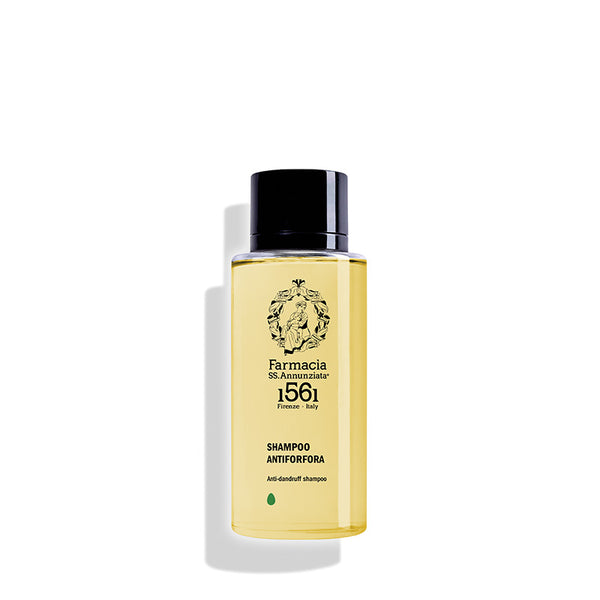 Descriptions
Anti-dandruff shampoo is a delicate cleanser specifically formulated to effectively fight scalp imbalances such as dandruff, inflammation and irritation. Thanks to its antiseptic action, it contributes to rebalance skin microflora, blocking the growth of pathogenic microorganisms and the consequent skin flaking and irritation.
Sanitizes and purifies, removing sebum excess and dead skin cells. Slows down cell turnover and the excessive skin flaking. Scalp looks regenerated.
Strengthens hair defences and reduces the damaging effects of dandruff like desiccation, itching and redness, thus preventing their development. Scalp and hair look healthier and more vital, for a long lasting sense of well-being. 
HAIR TYPES: All hair types, especially prone to oiliness ones. Oily/dry scalp with oily/dry dandruff..
Tips and directions for use
IDEAL TO:
Fight dandruff and hair flaking with a periodic treatment.
Efficiently treat skin inflammation with an effective fungicide, purifying and disinfecting action.
Soothe irritation and reduce itching, delivering a deep sense of well-being.
HOW TO USE:
To be used once a week, alternating it with another shampoo.
Wet hair with warm water and evenly distribute the necessary quantity of product on hair and scalp. Thoroughly massage. Rinse with warm water and repeat. Rinse again with a final burst of cold water to close the pores. Gently blot hair with a towel. 
ACTIVE SUBSTANCES:
Piroctone Olamine. 
NOTES:
Colorant free – Silicone free – Paraben free – GMO free
Close (esc)
10% OFF
Sign up for our newsletter and immediately receive a 10% discount code as a gift to use on your next purchase.