< Indietro
Precious Anti Aging Serum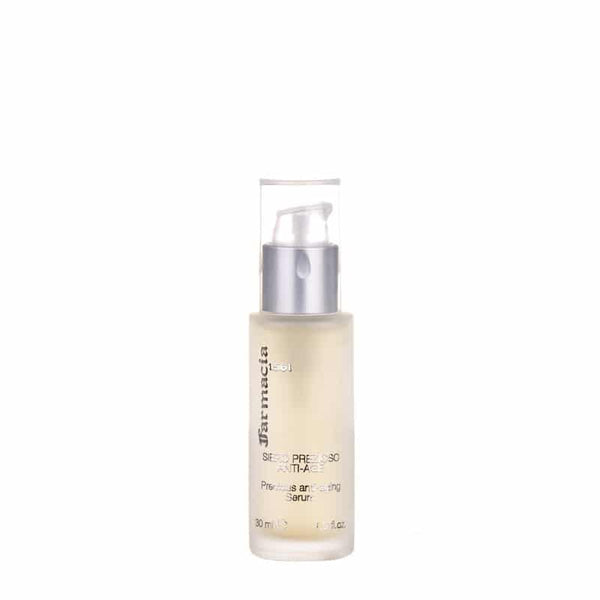 Description
Pentavitin is a unique and highly effective moisturizer containing naturally occurring carbohydrates. Its composition is very similar to that of the natural carbohydrate fraction found in the outer layer of the skin and it ensures constant hydration of the epidermis. The silk protein makes the skin soft and velvety while the Pentapeptide-3 relaxes and stimulates it allows maximum penetration of the plant collagen.
The combined action of these ingredients improves the cellular cohesion of the epidermis and produces a firming, elasticizing, anti-wrinkle effect. The Precious Anti-Aging Serum can be used by itself or in conjunction with the Precious 24 hour Anti-Aging Balm. The perfect synergy of the active ingredients creates a compound that facilitates the transportation of water already present in the skin to its deeper layers, effectively moisturizing and sealing it inside. 
SKIN TYPES: All types of skin. Product particularly suitable for mature skin.
Tips and directions for use
IDEAL TO: 
For those who want to enhance the effects of an anti-aging cream and make the skin softer and more elastic.
HOW TO USE:
After cleansing, apply a few drops to the face and neck in the morning and evening. For optimal results, apply before the Precious 24 hour Anti-Aging Balm. 
ACTIVE SUBSTANCES:
Plant Collagen, Pentavitin, Sericin (Silk Protein), Pentapeptide-3
NOTES:
Non-comedogenic – Colorant free – Paraben free – GMO free
Close (esc)
10% OFF
Sign up for our newsletter and immediately receive a 10% discount code as a gift to use on your next purchase.