< Indietro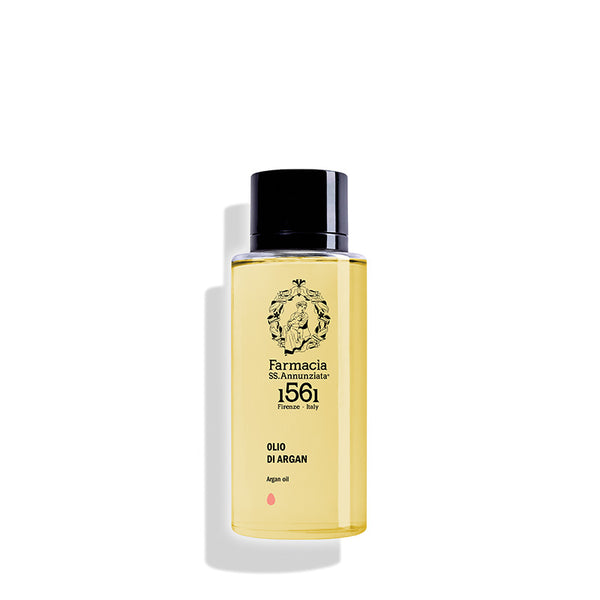 Description
Argan oil is a multipurpose vegetable oil for body, face, and hair with nourishing and regenerating properties. Strengthens the hydrolipidic skin barrier delivering a moisturizing and softening action. Protects the epidermis from external aggressions. The antioxidant properties of Vitamin E prevent skin aging, loss of elasticity and tone.
Thanks to its sebum-like composition, it optimally penetrates the skin, without leaving any trace of oiliness.
Excellent in treating dry and damaged hair, it deeply nourishes the hair fiber, donating shine and softness.
Ideal to be applied on hands and cuticles, it effectively fights skin dryness and cracks. 
SKIN TYPES: Suitable for all skin types, especially dry and dehydrated ones. 
Tips and directions for use
IDEAL TO:
Fight signs of aging and restore skin elasticity and firmness.
Strengthen hair and improving its look.
Reinforce weak nails, and soften hands and cuticles. 
HOW TO USE:
Use on clean skin, when needed.
Apply on hair as a pre-shampoo treatment; apply on dry hair to hydrate and soften the tips; use on dry cuticles and nails for a strengthening effect.
Body: Apply the right amount of product on well-cleansed skin, gently massaging until the oil is fully absorbed. Insist on dry and cracked areas (knees, heels, elbows).
Hair: On wet hair before the shampoo. Divide hair into sections and spread the product over the entire length of dry or wet hair. Leave it on for 30/60 minutes. Rinse with warm water and proceed with shampoo and further treatments.
On dry hair: Apply 1 or 2 drops of product on the entire length, insisting on hair tips.
Nails and cuticles: Massage a few drops on nails and cuticles until completely absorbed. Proceed with the manicure. 
ACTIVE SUBSTANCES:
Argan oil.
NOTES:
Non-comedogenic – Colorant free – Paraben free – GMO free
Close (esc)
10% OFF
Sign up for our newsletter and immediately receive a 10% discount code as a gift to use on your next purchase.