< Indietro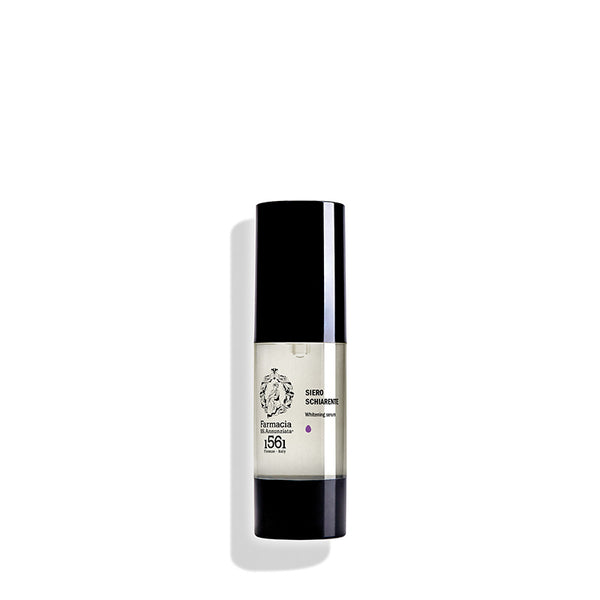 Description
Our Whitening serum is expressly designed to prevent and correct skin spots and hyperpigmentation. With a quick-absorbing and light texture, this serum instantly smoothes, revitalizes and brightens skin.
Stimulates the production of collagen and efficiently fights the signs of aging, protecting skin from free radicals and external aggressions. Regulates the production of melanin, preventing the appearance of skin spots. Corrects dullness and restores skin natural radiance. Reduces signs of stress and fatigue, acting on cell renewal and fundamental metabolic processes. 
SKIN TYPES: Suitable for all types, especially skin with spots and dyschromia.
Tips and directions for use
IDEAL TO:
Awaken dull and glowless skin with a vitamin C based treatment.
Correct, reduce or prevent skin dyschromia.
Protect skin from the damaging effects of free radicals, for a brighter and homogeneous look. 
HOW TO USE:
Apply once a day, preferably at night. If used in the morning, a sun protection is recommended for all seasons.
Apply to face and neck, avoiding the eye contour area, and gently massage until fully absorbed.
Face: apply to skin spots or all over the face, and massage in a linear upward motion from the center of the face outwards.
Neck: massage by alternating your hands in a linear upward motion from the base of the neck up to the chin. 
ACTIVE SUBSTANCES:
Vitamin C
NOTE:
Non-comedogenic – Colorant free – Paraben free – GMO free
Close (esc)
10% OFF
Sign up for our newsletter and immediately receive a 10% discount code as a gift to use on your next purchase.