< Indietro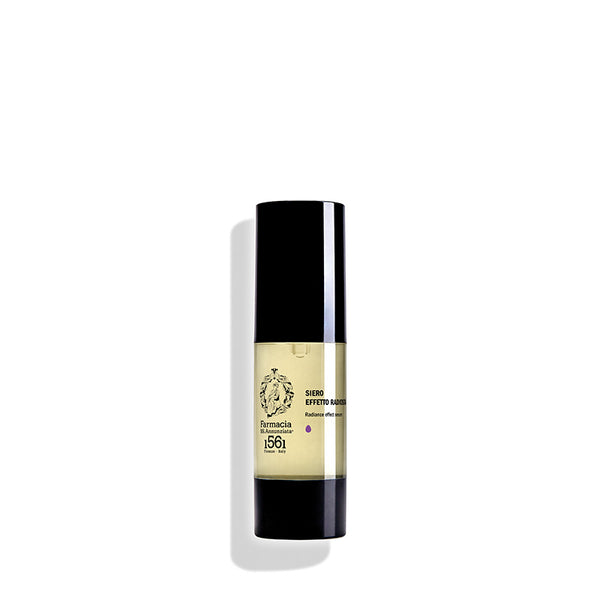 Description
Radiance effect serum boosts the luminosity and smoothness of dull, hyperpigmented, lined and acne-scarred skin. The action of Alpha Hydroxy Acids (AHA) gently exfoliates, stimulating cell renewal and supporting the skin's key activities.
Spots, roughness and wrinkles are minimized, skin is more uniform, brighter and smoother. Contributes to maintain the pores clean and sebum-free, thus preventing the appearance of blackheads. Hyaluronic Acid effectively moisturizes while Calendula delivers a calming and soothing effect on exfoliated skin. 
SKIN TYPES: Suitable for all skin types, except sensitive, photosensitive and couperose-prone ones. 
Tips and directions for use
IDEAL TO:
Restore smoothness and reduce the wrinkles and fine lines depth.
Reduce skin spots and dyschromia.
Clean clogged pores and minimize acne scars. 
HOW TO USE:
3/4 weeks of regular everyday use are recommended, avoiding summer time. It is strongly advisable to apply the Radiance Effect Serum only at night. In the morning, use a face cream with solar filter ( SPF 15 or higher).
During the whole treatment, skin must not be directly exposed to solar radiations. Temporarily slightly red and itchy skin after the first applications is to be considered normal.
Apply to face and neck, avoiding the eye contour area, and gently massage until fully absorbed.
Face: massage in a linear upward motion from the center of the face outwards.
Neck: massage by alternating your hands in a linear upward motion from the base of the neck up to the chin. 
ACTIVE SUBSTANCES:
Alpha Hydroxy Acids, Calendula Officinalis, Hyaluronic Acid.
NOTES:
Non comedogenic - Does not contain dyes - Does not contain parabens - Does not contain GMOs
Close (esc)
10% OFF
Sign up for our newsletter and immediately receive a 10% discount code as a gift to use on your next purchase.